ASME B16.5 Slip on/So Forged Flange DN500 ASTM A105 A182 F304L Forging SO Flange
Slip-on flanges are installed on pipes by slipping on the flange bore over the outside diameter of pipe and securing it to the pipe by fillet welds. There is no full penetration weld between the pipe and slip-on flanges, hence the joint cannot be subject to radiography. A slip-on flange can have a single filled weld or double fillet weld. As per para 328.5.2 of ASME B31.3, if slip-on flanges are single welded the weld is required to be made at the hub. Where two welds are required, one fillet weld is made at the hub of the slip-on flange and the second fillet weld is made at the inside diameter of the flange close to the flange face. The position of pipe inside the slip-on flange should be such that the fillet weld can be carried out without damaging the flange face.The size of fillet weld on the inside of flange is equal to the lesser of pipe wall thickness or 6mm.
ASME B31.3 provides three options of weld details for double-welded slip-on flanges. A slip-on flange shall be double-welded as shown in Fig. 328.5.2B of ASME B31.3 when the service is
subject to severe erosion, crevice corrosion, or cyclic loading

flammable, toxic, or damaging to human tissue

under severe cyclic conditions

at temperatures below −101°C (−150°F)
The use of slip-on flanges should be avoided where many large temperature cycles are expected, particularly if the flanges are not insulated.
Advantages of slip-on flanges
Slip-on flange is a preferred flange for many applications due to the following:
lower procurement cost

less skill required for installing due to use of fillet welds instead of full penetration butt weld

weld end preparation not required on pipe ends

reduced accuracy in the cut length of pipe
Limitations and disadvantages of slip-on flanges
Though the initial procurement cost of slip-on flange is low, slip-on flange has the following disadvantages:
flange installation requires the use of two fillet welds

non-destructive examination is required on two welds which makes the installation cost approximately the same as weld neck flange

slip-on flanges are unsuitable for cyclic loading as mentioned above

slip-on flanges are not available in sizes 2½ inches and over in class 1500 rating and not available in any size for class 2500 rating

the strength of a slip-on flange is less than that of a weld neck flange due its design (less reinforcement in the hub) and installation method (fillet weld instead of butt-weld)
Steel Flanges
Material
Carbon steel
ASTM A105. ASTM A350 LF1. LF2, CL1/CL2, A234, S235JRG2, P245GH
P250GH, P280GHM 16MN, 20MN ,20#
Stainless steel
ASTM A182, F304/304L, F316/316L
Alloy steel
ASTM A182 A182 F12,F11,F22,F5,F9,F91etc.

Standard

ANSI
Class 150 Flanges-Class 2500 Flanges
DIN
6Bar 10Bar 16Bar 25Bar 40Bar
JIS
5K Flanges-20K Flanges
UNI
6Bar 10Bar 16Bar 25Bar 40Bar
EN
6Bar 10Bar 16Bar 25Bar 40Bar
TYPE
1.Welding neck Flange 2.Slip on
3.Blind flange 4.Long welding neck flange
5.Lap joint flange 6.Socket welding
7.Threaded flange 8.Flat flange
Surface

Anti-rust oil, clear lacquer, Black lacquer, Yellow lacquer,hot-dipped Galvanized

,

electrical galvanized

Connection
Welding, Threaded
Technical
Forged, Casting
Size
DN10-DN3600
Package
1.>Standard export packaging (Plywood Case Of Outside,Plastic Cloth Of Inside). 2:As Customers' Requirements
Heat Treatment
Normalizing, Annealing, Quenching Tempering
Certificate
TUV,ISO9001:2008;PED97/23/EC,ISO14001:2004,OHSAS18001:2007
Applications
Water works, Shipbuilding industry, Petrochemical & Gas industry, Power industry, Valve industry,and general pipes connecting projects etc.
Steel Flanges




Flange Type:

Weld Neck Flange, Socket Weld Flange, Slip On Flange, Blind Flange, Thread Flange,
Lap Joint Flange, Plate Flange, Orifice Flange, Spectacle Flange, Figure 8 Flange,
Paddle Blank, Paddle Spacer, Anchor Flange, Single Blind, Ring Spacer,
Reducing Socket Weld flange, Reducing Weld Neck flange, Long Weld Neck Flange,
SAE Flanges, Hydraulic Flanges,
Customized Flanges with drawing.



Material

Carbon steelA105, A105N, ST37.2, 20#, 35#, C40, Q235,
A350 LF2 CL1/CL2, A350 LF3 CL1/CL2,
A694 F42, F46, F50, F60, F65, F70,
A516 Gr.60, Gr.65, Gr.70
Alloy steelA182 F11, A182 F22
Austenitic stainless steelA182 F304/304L, F316L, A182 F316H,
F310, F321, F321H, F347, F347H
Duplex stainless steelA182 F51
Super Duplex stainless steelA182 F53, A182 F55, A182 F60
Nickel alloyNickel 200, Nickel 201
Titanium alloyTitan Gr.1, Titan Gr.2
HastelloyHastelloy C-276, Hastelloy C-22, Hastelloy C-4
InconelInconel 600, Inconel 625, Inconel 800, Inconel 800H
MonelMonel 400, Monel K500



Size

DN15 - DN3000


Pressure

Class 150# - 2500#, PN 2.5- PN40, JIS 5K - 20K, 3000PSI, 6000PSI


Connection Way

Flat Face (FF), Raised Face (RF), Ring Joint (RTJ), MFM, TG


Standard

ASME, ANSI, DIN, EN, BS, JIS, GB, AWWA, API, SAE, GOST, MSS


Technical

Forged


Package

Plywood Case/ Wooden Case/ Customized Package


Brand

ST


Certificates

API, ISO, PED, EC, EU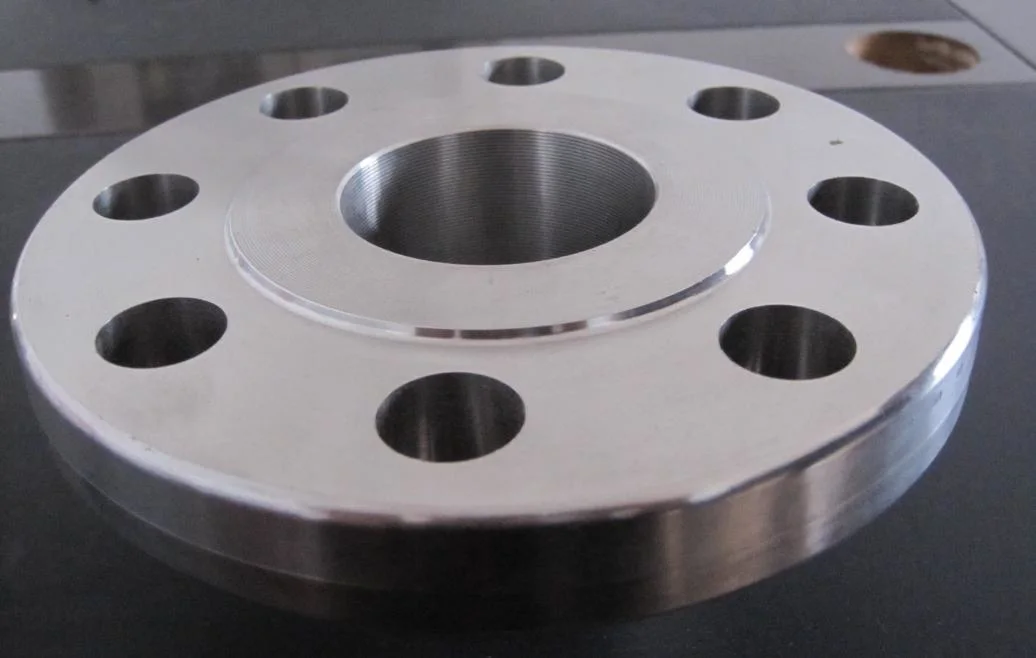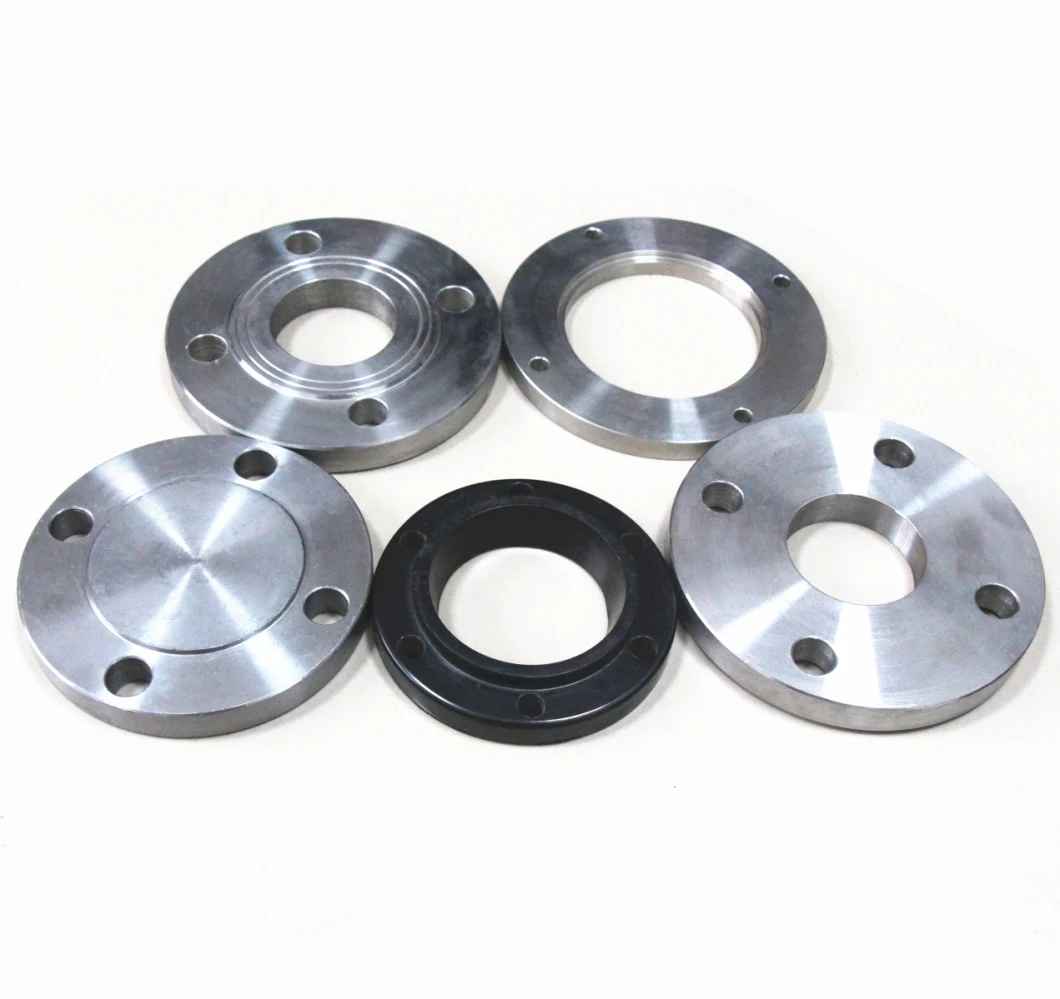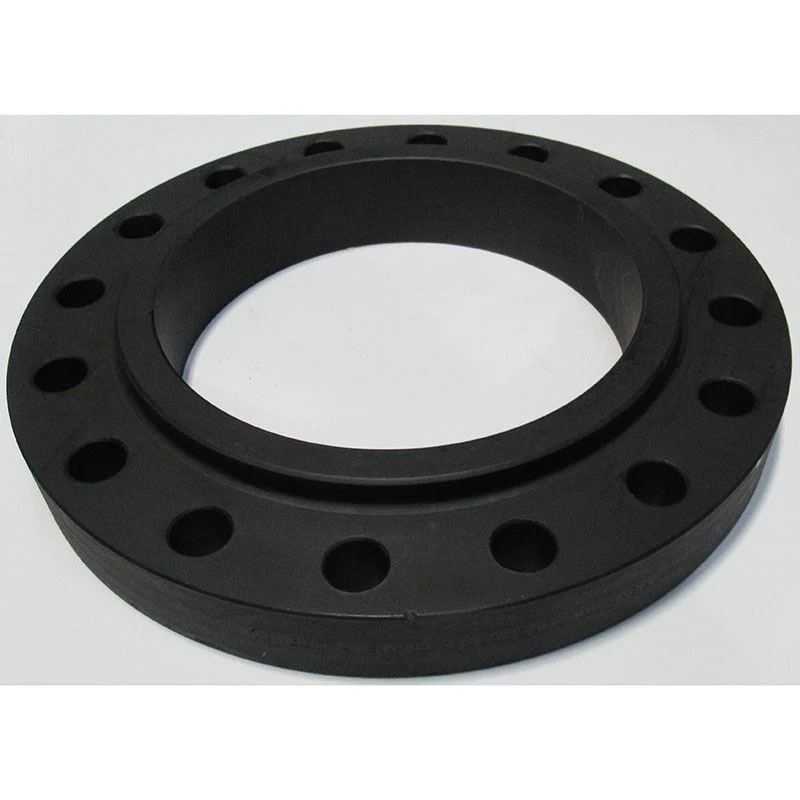 PIPE FITTINGS

Flange

Production Name

Carbon Steel Flange ASTM ANSI JIS DIN SCH RF WN SO 150 LB

Size Range

From ½" up to

48

"

Schedule

SCH STD, XS, XXS, SCH 10 ~ SCH 160

CARBON STEEL

ASTM A234 WPB, WPC; ASTM A420 WPL9, WPL3, WPL6, WPHY-42

STANDARDS

ANSI, ISO, JIS, DIN, BS,GB, SH, HG,QOST,ETC.

CE and certification:

ISO9001:2000 , API , BV , SGS, LOIYD

Applications range:

Petroleum, chemical, power, gas, metallurgy, shipbuilding.construction,water and nuclear power etc.

Packaging:

seaworthy package,Plywood Cases or pallet or as per customers requirement

The third party inspection:

BV,SGS,LOIYD,TUV,and other party alloyed by clients.

Delivery Time:

At the earliest ,within the period required by customer.

Remark:

Also can supply IBR fittings and Specialized NACE & HIC Fittings.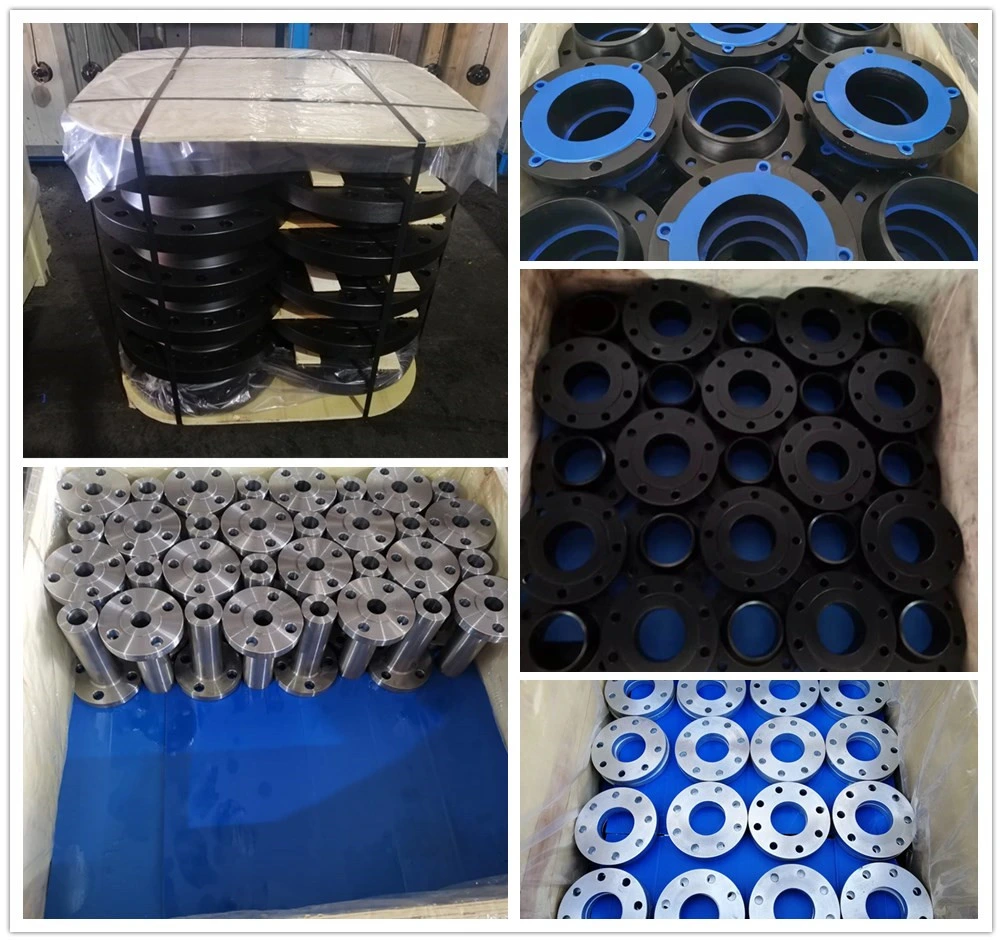 Established in 1989, Hebei Shengtian Pipe-Fitting Group Co., Ltd. located in Mengcun County Hebei Province China, covering a land area of 100,000 square meters, with a workshop of 25,000 square meters and registered capital of 110 million RMB. Our company has a strong staff team. There are over 360 employees, including over 30 professionals and technicians.
We are capable of manufacturing various pipe fittings. Our main products scope: steel elbow, tees, bends, reducers, caps, forged flanges and sockets. We have been in this line for over 20 years. Our products are exported to many countries and regions, such as Southeast Asia, the Middle East, Europe and America etc. Our pipes and pipe fittings enjoy a good reputation in domestic and foreign markets. Every year, hundreds of foreign visitors and innumerable domestic visitors come to our company for business cooperation.
We have first-class inspection devices, perfect detecting means and well-trained specialists. And we stick to ISO9000:2000 quality system and efficiently control procedure in production. We have confidence that we can supply the best quality products. We would like to take responsibility for any quality uncertainty. Even so, our price is competitive. Besides, we can provide the best service to you.
In order to avoid the policy of the anti-dumping duties imposed on pipe & fittings from the Europe, United States and other countries, We can re-export through other countries like Malaysia, etc, to circumvent the anti-dumping duties, which could make you to win more competitive price.
Our products are in compliance with many international standards
Pipe Standard: ASTM A53,A106,API 5L,ASME B36.10M---1996.
Pipe-Fittings Standard: ANSI B16.9/16.28,DIN 2605 / 2616,JIS P2311 / 2312,GOST.
Flange Standard: ANSI B16.5,DIN Series,JIS Series,GOST Series.
KEYWORD: butt welded pipe fittings,ANSI B16.9 pipe fittings,seamless pipe fitting.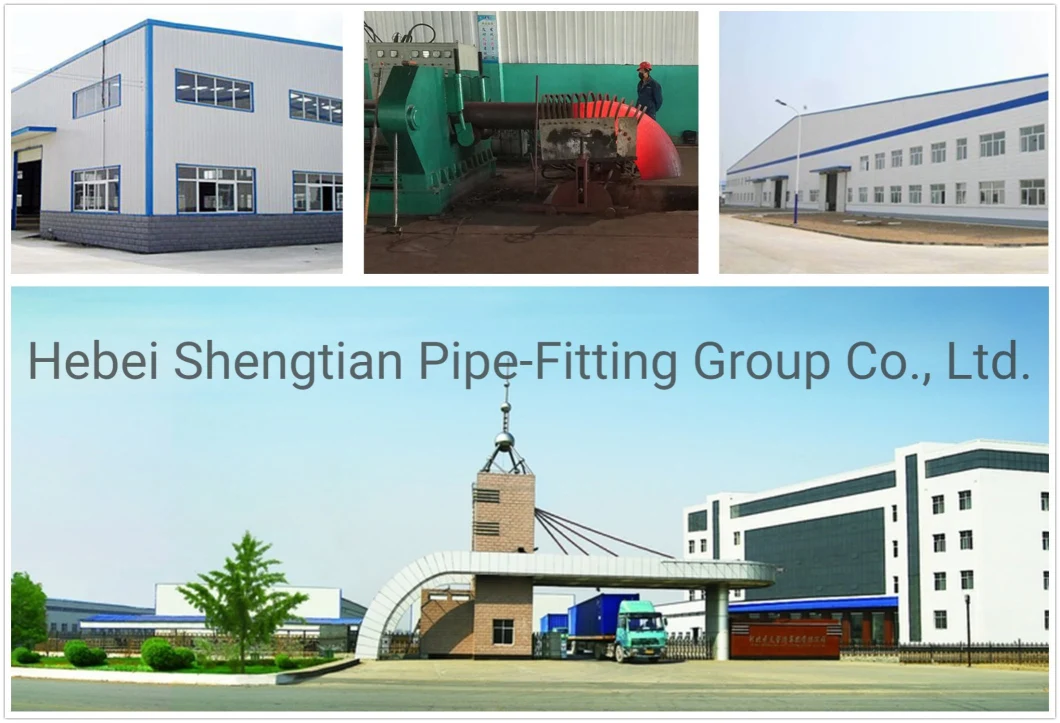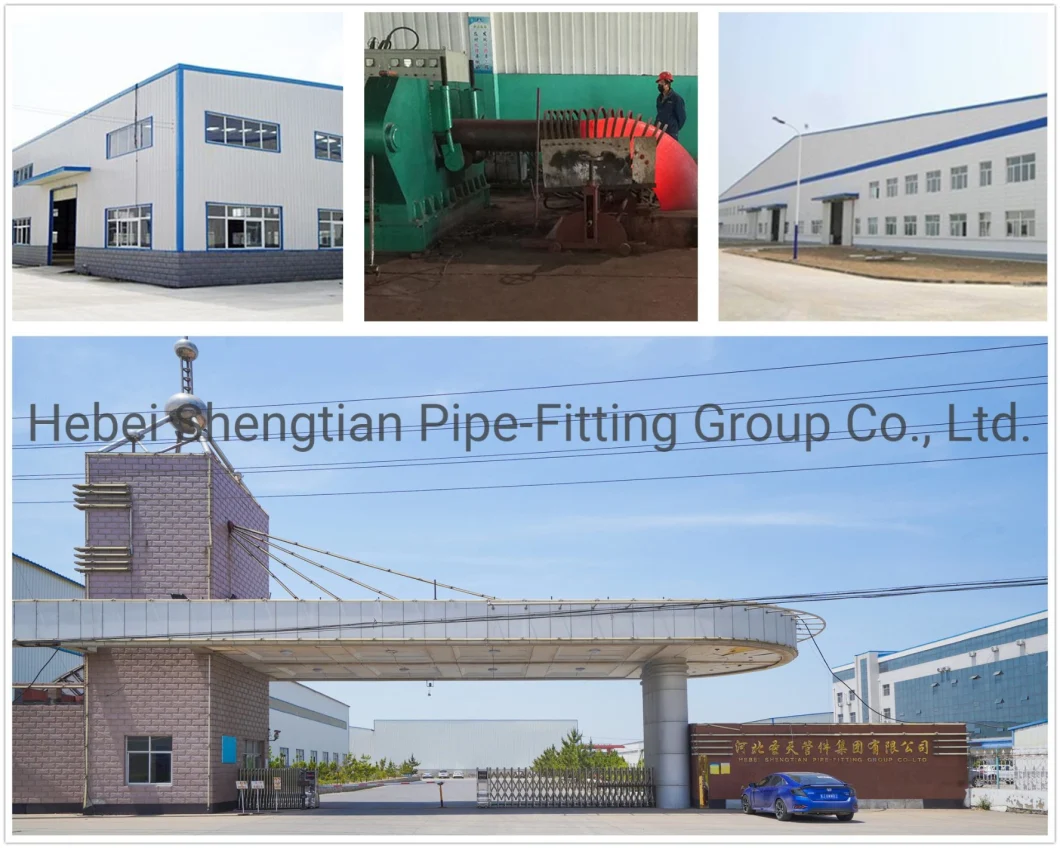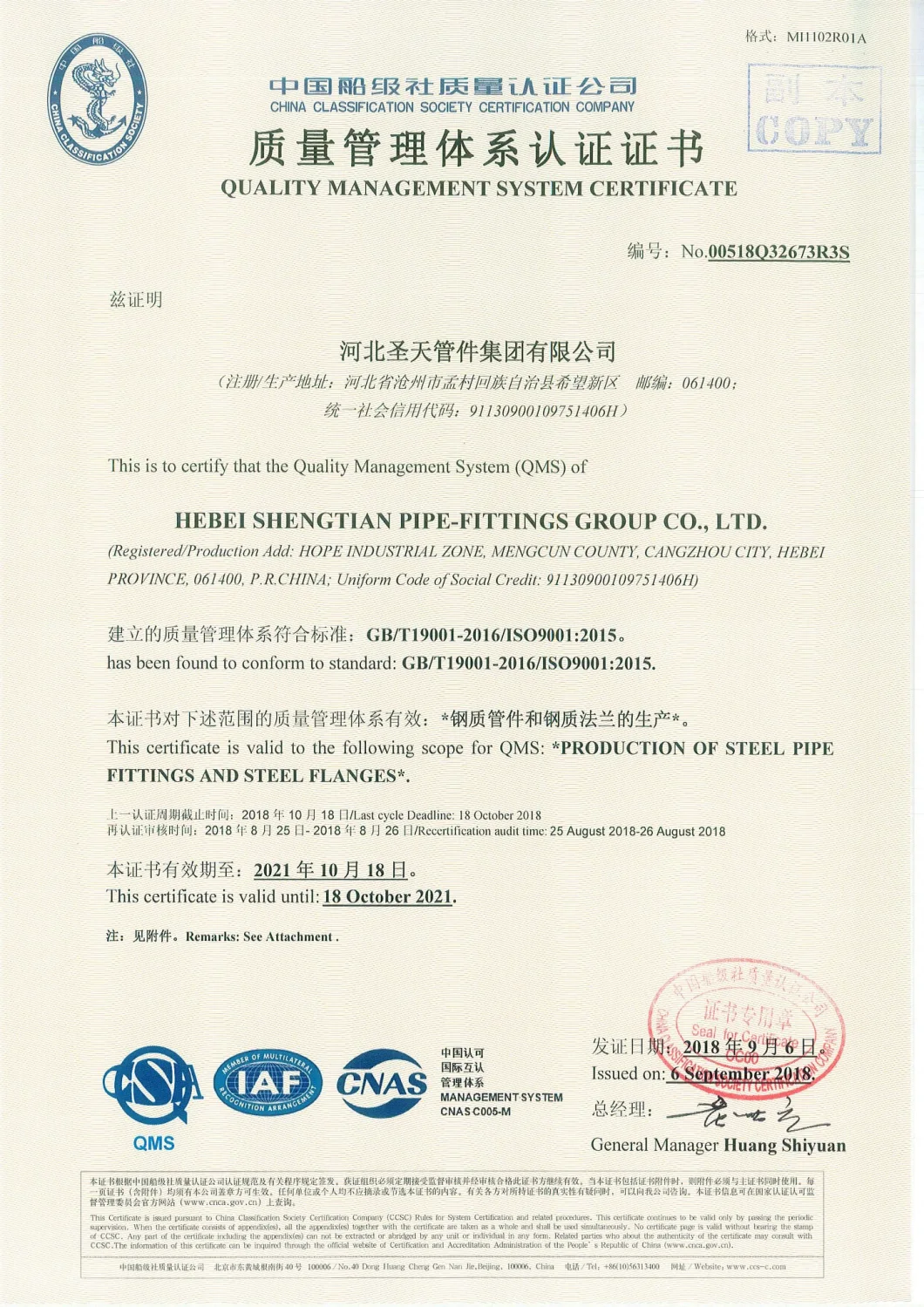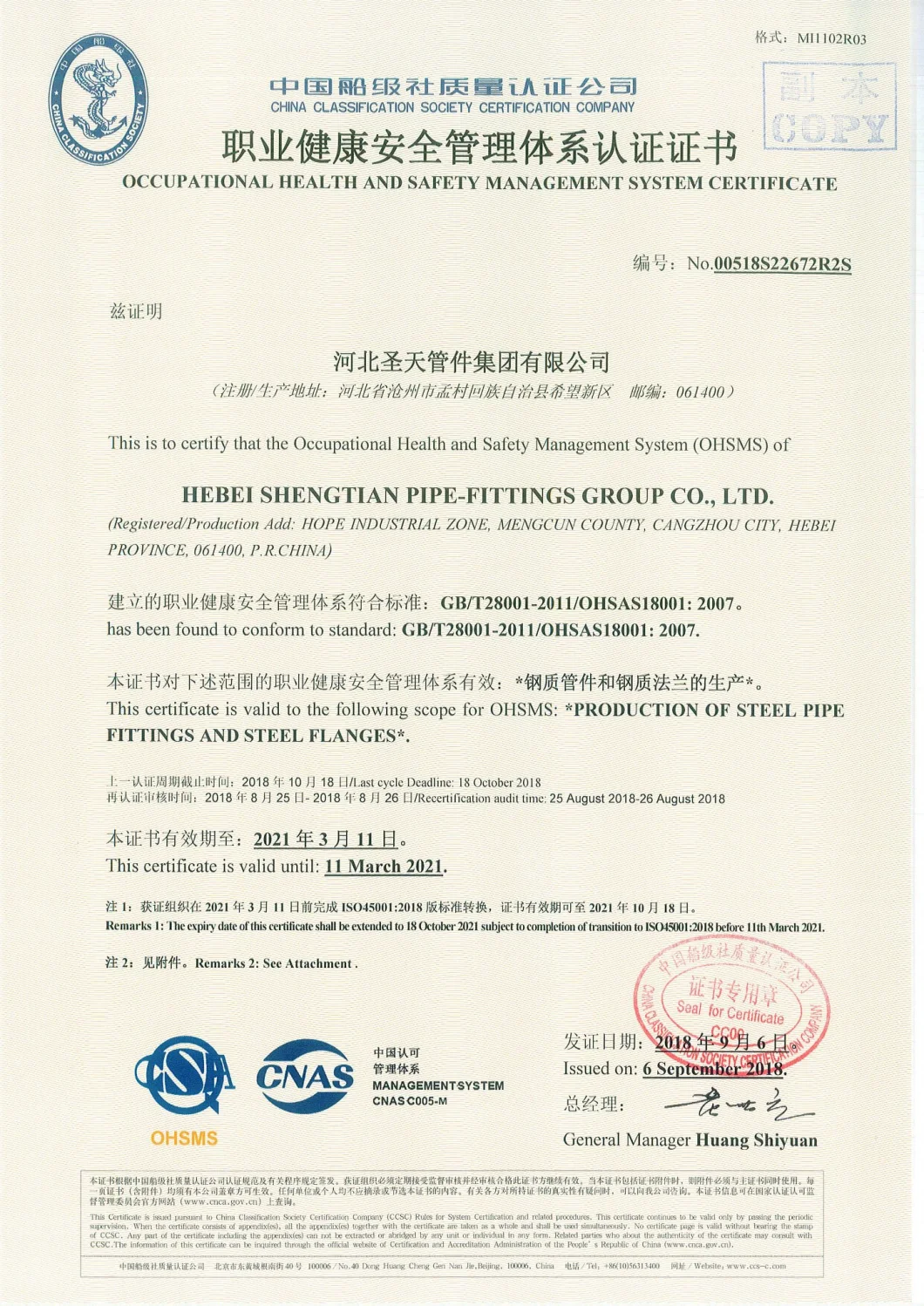 Production Period
We have rich experience in organizing the production and logistic, which could help us to cut the production period and ensure the supplying, so that we could meet customers' urgent demand. Besides, our timely supplying can also help customer to reduce the planned stocks reserve.
Quality Control
Quality control begins from selecting the qualified raw material supplier, then each lot of raw aterial must be re-tested at random when enter the material inventory.Then from the raw material cutting process, shaping, heat treatment, machining,surface treatment, packaging, all these process quality control is necessary.
Quickresponse in pre-sales and after-sales
Exact and quick offer, professional technique support, all can help the contractor or sourcing people to get the priority and opportunity in current fierce competing market. And our complete and timely after-sales solution provides the effective protection for customer.
Q: Can you supply Form e, Certificate of origin?
A: Yes, we can supply.
Q: Can you supply invoice and CO with chamber of commerce?
A: Yes, we can supply.
Q: Can you accept L/C deferred 30, 60, 90days?
A: We can.
Q: Can you accept O/A payment?
A: We can.
Q: Can you supply samples?
A: Yes, some samples are free.
Q: Can you supply the products which comply with NACE?
A: Yes, we can.
Q: Can you visit your factory
A: Yes, sure. Welcome.