Professional Flange Turning Facing Threading CNC Lathe
For Machining Bearing, Flange,Cylinders, Long Shaft,Tire Mold, Railway Parts,Wheel Hub Turbine,etc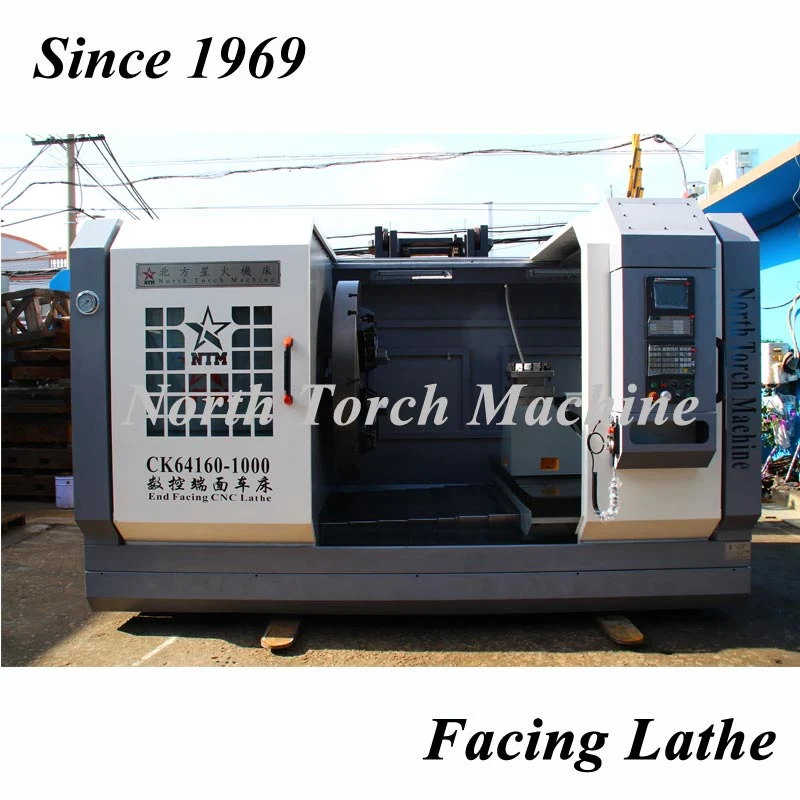 1. Outstanding Characteristics:
1.) It has functions including screw thread, conical surface, curved surface, internal boring, etc. All components of machine are imported from foreign famous brands, such as Japanese Bearing, ABB Motor& transmission box/gear box, etc.
2.) This lathe adopts frequency control system as its main drive system;

driven by frequency control motor, the speed of main-shaft

realizes stepless speed regulating, thus having different speeds to meet rational cutting speed requirements for the machining of different type of work-piece.
3.) This lathe consists of lathe bed, selective headstock, tailstock, blade adapter, electric control system, lubrication system, and so on.
Selective headstock and tailstock are installed at the left and right side of lathe bed respectively.
4.) The main shaft can realize stepless speed
regulating in a range of 10
~300r/min; and the main spindle front bearing adopts high-precision double row cylindrical roller bearings, having high-degree of rigidity and rotary precision and easy to adjust.
5.)
H
igh Rigidity, Stability and Precision Maintenance:
All castings are made of high-strength

meehanite
HT250. which is particularly suitable for heavy cutting. All large castings stand the test of annealing and vibration aging and internal stress is eliminated, so the overall precision is greatly enhanced and processed parts are found with high geometric accuracy.
Our Principle : Maximize Customer's Profitability under the minimum invest cost.

Application:
This is a CNC horizontal lathe which is suitable for high-speed steel and carbide cutting tool to implement coarse and fine stock removing and cutting on the outer cylindrical surface of roller of different materials; it also can be used for rough and finish machining of other shaft parts.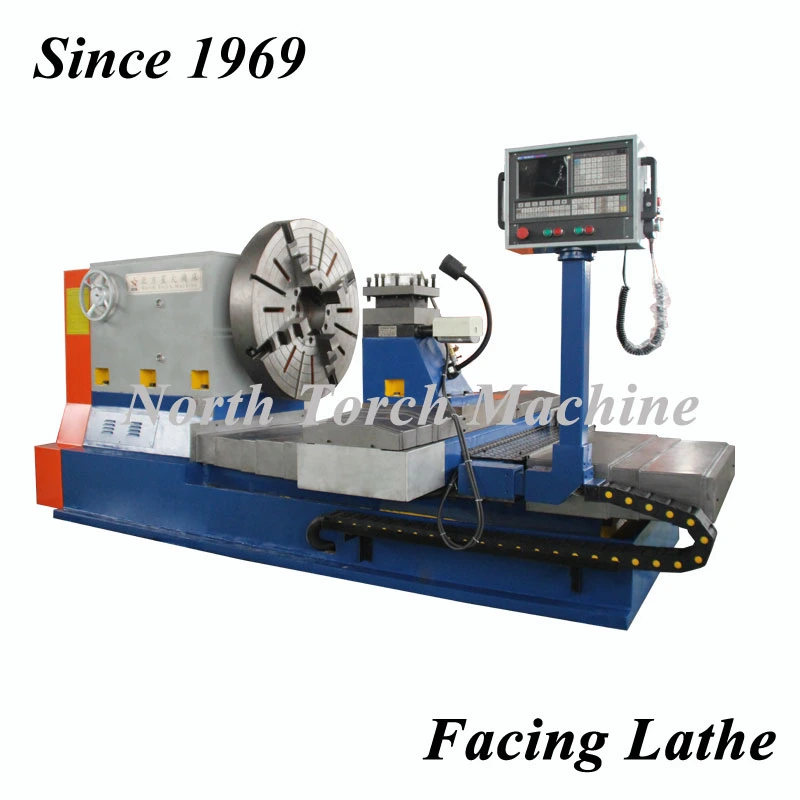 Name
CK61100
CK61125
CK61160
CK61200
CK61250
Description
Unit
Max. Swing over bed
mm
1000
1250
1600
2000
2500
Max. Swing Over the skateboard
mm
600
800
1200
1500
1800
Max. Weight of Work-piece
T
1
1
2
2
3
Max. Length of Work-piece
mm
700
700
700
700
700
Gears of Spindle Speed
/
Infinitely Variable Speed/step-less speed
Range of Spindle Speed
r/Min
10-300
10-200
10-160
10-160
4-80
Chuck Diameter
mm
800
1000
1250
1600
2000
Bearing Diameter of Main Front Shaft
mm
190
190
220
220
300
X,Z-Axis Feed Range
mm/Min
0-3000
Horizontal Stroke
mm
500
650
800
1000
1250
Longitudinal Stroke
mm
700
700
700
700
700
Main Driving Motor
Kw
Variable Frequency 11Kw-4
Variable Frequency 15Kw-4
Variable Frequency 22Kw-4
Variable Frequency 30Kw-4
Variable Frequency 45Kw-4
Rermarks:

1. The above 5 models of Horizontal Lathe Machine are the standard configurations,

we can also design and manufacture customized lathe machines according to the user's workpiece features.



2. This series horizontal Lathe Machine have been

exported to Norway, Thailand, Romania, Iran, Russia, Chile for machining railway parts, automobile parts, mining and metallurgy, shipping building, wind power and other machinery industry.

1.
We provide professional technical training for users' operators and maintenance staff to enable them to properly use and operate the lathe and carry out normal maintenance.

2. Warranty period: One year after acceptance of the lathe.

3. In case of any quality problem found during operation, the factory will dispatch personnel to the user's location within 48 hours (domestic users) & within 3 days (Foreign Customer) and the technical staff won't leave before resolving the malfuntion.

4. The company will freely provide different electrical and mechanical parts for the purchased lathe timely within warranty period.

5. The company will provide lifetime guarantee for the consulting services in terms of application, maintenance, repair, renovation, etc of equipments.
For more details, please feel free to contact us. Thanks!