304 Stainless Steel Vacuum Fittings ISO-KF Flange KF to KF Conical Reducer
Vacuum components are important parts of vacuum technology. These are all components of vacuum equipment which are necessary for the assembly of vacuum lines, e. g. flanges, seals and tube components (elbows, tees, crosses etc.). Applications in vacuum technology make high demands on the selection of material as well as the fabrication of these components.
1.Product Feature
These KFto KF conical reducer vacuum fittings follow ISO-KF standards. They are commonly used to build foreline vacuum plumbing and process systems. They are often called quick flange fittings because they are quick to assemble. A circumferential clamp and centering ring form the vacuum seal between the connecting flanges (please see top right figure - click to enlarge). The centering ring contains a rubber elastomer o-ring. The standard sizes for quick flange fittings are KF-10, KF-16, KF-25, KF-40, and KF-50 with flange sizes NW-10, NW-16, NW-25, NW-40, and NW-50, respectively. They are made of corrosive resistant stainless steel.
High vacuum rated to 1x10-8 Torr
Temperature rated to 200ºC maximum
Symmetric, nonrotatable geometries
Rotatable Bolt Rings available for LF sizes
Viton O-rings
Standard matte finish
NW16 through NW50 sizes
Body type dependent on tube size
Specifications

Material

Flanges

304 Stainless Steel

Tubing

304 Stainless Steel

Finish

Standard matte Finish

Vacuum

Range

1x10-8 Torr

Fittings Leak Test

2x10-10 cc/sec of He

Temperature Range

Viton

Minimum: -20ºC




Intermittent: 200ºC




Sustained: 150ºC

Silicone

Minimum: -50ºC




Intermittent: 200ºC




Sustained: 150ºC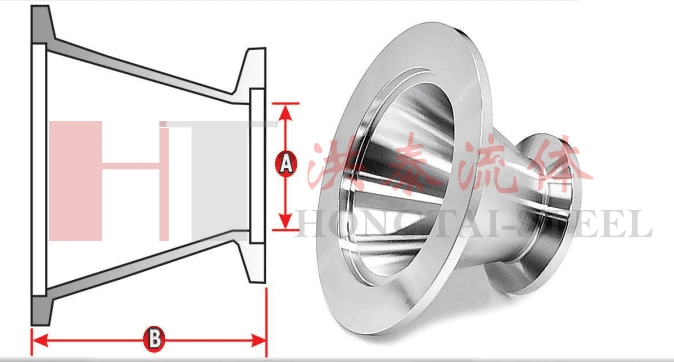 KF Flange Size

A(inch)
B(inch)

KF16 to KF25

0.62

''

1.57

''

KF16 to KF40

0.62

''

1.57

''

KF16 to KF50

0.62

''

1.57

''

KF25 to KF40

0.87

''

1.57

''

KF25 to KF50

0.87

''

1.57

''

KF40 to KF50

1.34

''

1.57

''
2.Manufacturing and packing process
port

Shanghai Port or Ningbo Port, China

min o

r

der Qty.

1 piece

Supply ability

5,000 pieces/month

Payment terms

T/T, Western Union, Paypal, L/C

Packaging

Shrink Wrap-Carton Case-Exporting Plywood Case

Delivery time

Depends on quantity

Shipping mode

By sea, by air, by express
Wenzhou Hongtai Fluid Equipment Co., Ltd is a comprehensive and professional manufacturer, being integrating in designing, developing, manufacturing.We specialize in sanitary valves, pipe fittings and pumps, which is applied for milk, food, beer, pharmaceutical and other fields.
We can quote you favourable price,high quality&best after-sale services.Welcome to visit our factory.
3.The following are other products that we also supply:
Sanitary Valves

Sanitary Butterfly Valves

Sanitary Check Valves

Sanitary Ball Valves

Sanitary Reversal Valves

Sanitary Diaphragm Valves

Sanitary Sample Valves

Sanitary Safety Valves

Sanitary Control Valves

Sanitary Relief Pressure Valves

Sanitary Pipe Fittings

Sanitary Elbow

Sanitary Tee

Sanitary Reducer

Sanitary Cross

Sanitary Tri

clamp Ferrule

Tri

clamp

High pressure tri

clamp

Tri

clamp spool

Round lids

Filter reducer with MNPT port

Round lid with FNPT port

Hemispherical lids

Filter stack

Sanitary Cap

Sanitary Pipe Hanger

Sanitary Tank Cleaning Ball

Sanitary Hose Joint

Sanitary Unions

Sanitary Sight Glass

Sanitary Strainer

Sanitary Manhole

Sanitary Round Man

hole

without Pressure

Sanitary Round Man

hole

with Pressure

Sanitary Square Man

hole

Sanitary Oval Man

hole

Sanitary Pumps

Sanitary Centrifugal Pump

Sanitary Lobe Pump

Sanitary Self Priming Pump

Sanitary Tanks

Storage Tank

Fermentation Tank

Mixing Tank

Warm-keeping Tank

Sanitary Tube

Seamless Tube

Weldless Tube

Sanitary Gasket

Silicone/EPDM/PTEF/VITON Gasket for Triclamp

Silicone/EPDM/PTEF/VITON Gasket for Union

Silicone/EPDM/PTEF/VITON Gasket for Butterfly Valve

Silicone/EPDM/PTEF/VITON Gasket for Manhole Cover
FAQ
Q1. Are you a trading company or factory?
Without doubt, We are a manufacturing factory.
Q2. Do you have FDA certificate for the materials?
Yes,because FDA is a basic and very important certificate for the food processing machines.
Q3. How do you control the quality?
Quality control is very important to avoid material mixing and poor quality. We control the quality from beginning to the end. We only have 304 and 316L two different materials. 100% inspection on raw materials. And during the production, different materials in different places. After materials are finished, we choose 10% for
inspection. If there is 0.1% problem in 10%, then no excuse to go ahead for inspecting 100% of the materials.
Q4. About chemical components
This is first concerning for customers. We take our materials to our laboratory for each lot. You may ask for the
laboratory report any time.
Q5. If there is any quality problem, how do you solve it?
We are very proud that we never let one customer leave us. We are not 100% perfect,and there are some quality problems. But We try our best to provide the correct materials in the beginning , so that we take less time for quality problems.
If there is any quality problem, we take the responsibility. We believe what we are doing together, it will get backtomorrow. If we always take our responsibility, we keep our customers with us. If not, customers will leave us.
Q6. How long is your delivery time?
For normal products in 10-15 days; for bulk order, in 25-30 days. It depends.
Q7. Warranty
3 years warranty for all of our stainless steel products. Gaskets are not included due to the different application for customers.
More questions are also appreciated.
Mobil: 0086-13626538003
Tel.: 0086-577-86812651