Flange connecting floating ball valve with pneumatic actuator
1. Company profile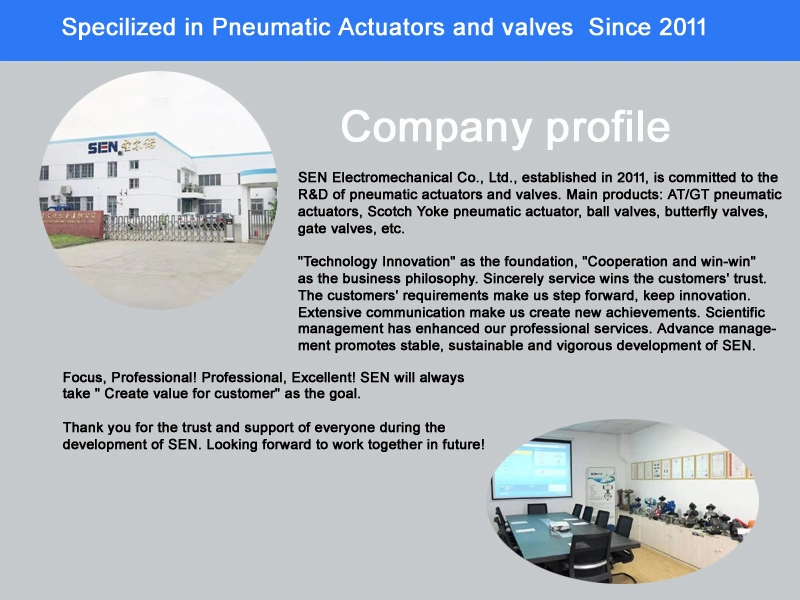 2. Certificates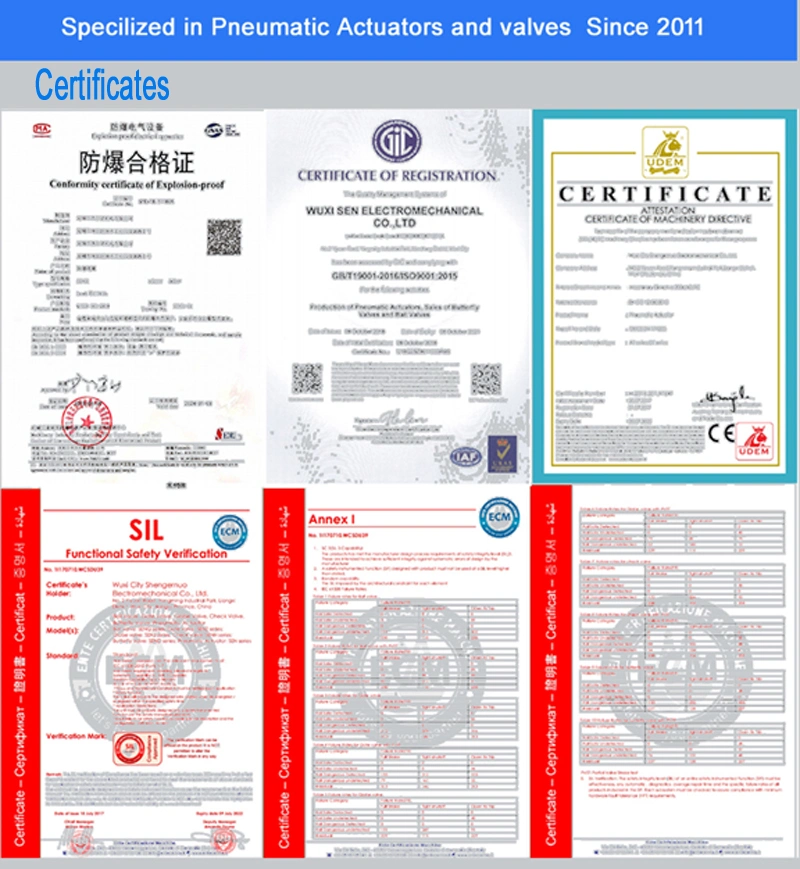 3. Products details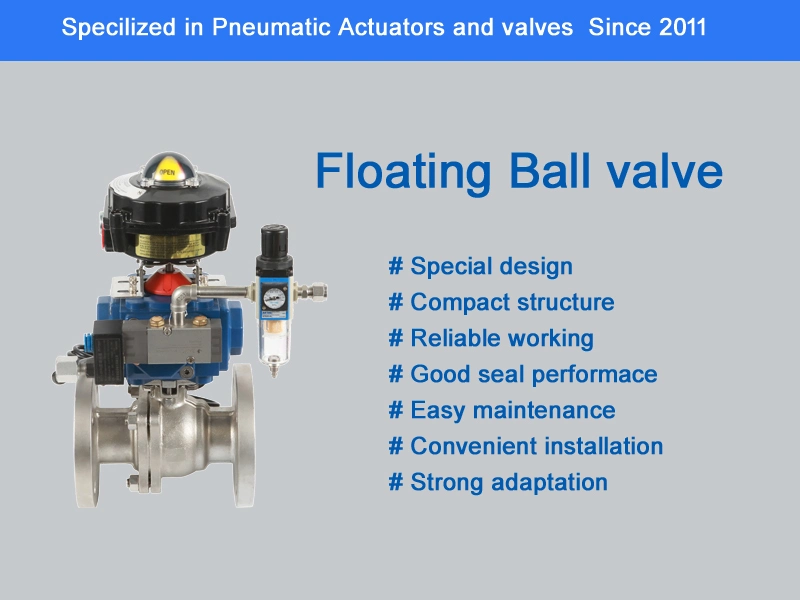 Pneumatic O type floating ball valve is special design based on absorb the advantage technology overboard, and crafted products. It controls and adjusts the pressure, flow, temperature, liquid level, etc., by connecting with electrical valve positioner, solenoid valve, limit switch, air fliter pressure reducting valve. Its power is compress air. Valve stem drive valve core turn 90 degree in valve, to achive the action of full close/open.

Item
Data and description

Nominal diameter

15

20
25
32
40
50
65
80
100
125
150
200
250
300

Rated flow coefficient

20

38
72
110
170
215
380
550
890
1400
2000
3580
5650
8100

Action range

0-90 degree

Air supply pressure

0.4-0.7 Mpa

Allowable pressure difference

below nominal pressure

Nominal pressure

1.6, 2.4, 4.0, 6.4 Mpa, ANSI 150LB, 300LB

Valve body material

WCB, 304, 316, 304L, 316L

Filler

PTFE V-filler, PTFE carbon fiber, PTFE asbestos, flexiable graphite

Valve seat sealing type

Metal carbide seal: -29 ~ 425 degree

Soft sealing: PTFE: -20 ~175 degree, PPL:-40~280 degree, Nylon:-40~80 degree

Valve core shape

Concentric full spherical type

Valve core form

floating ball type

Flow characteristic

quick open

Action form

Air open type, air close type, electric open type, electric close type

Pneumatic actuator

Double acting, spring return

Optional pneumatic actuator

AT/GT pneumatic actuator, DRG scotch Yoke pneumatic actuator

Accessories

electrical solenoid positioner, solenoid valve, limit switch, lock valve, air filter pressure reducing valve

Connection type

Flange, thread, welding
It is special used for the media within sticky, with particle and fiber charactiscs. Ball valve is widely used in the control system of the industries, such as petrom, chemical, light industry, high pressure equipment, pharmaceutical, paper making, etc.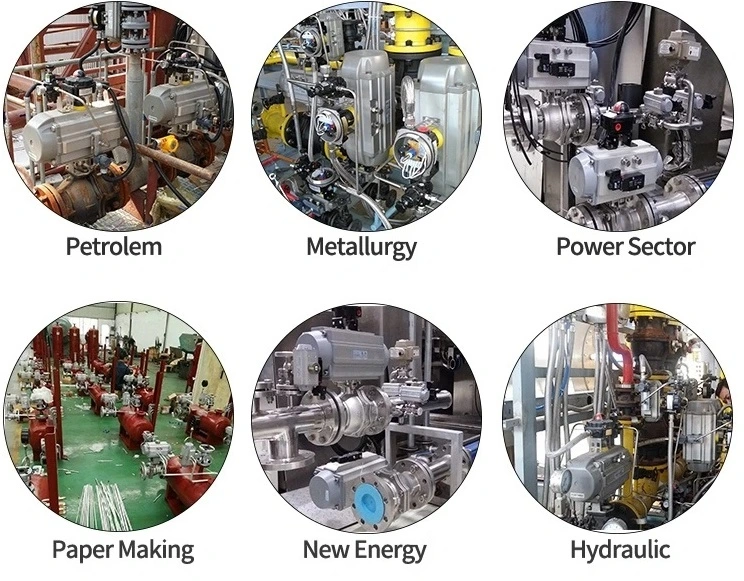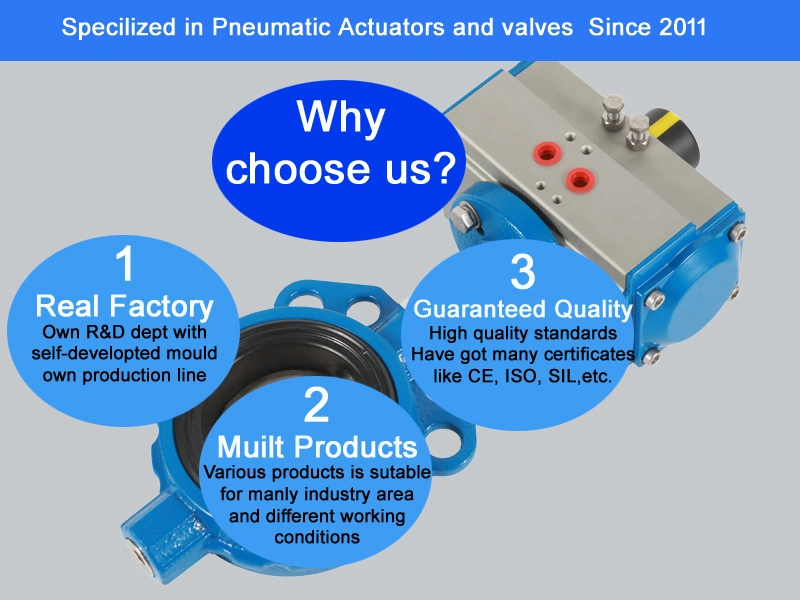 4. Contact us